What We Do
If you or people you love are hungry, You Are Not Alone!
We are open Monday through Thursdays from 9 AM to 11 AM. We are also open every Monday evening from 5:30 to 7 PM We are closed on holidays.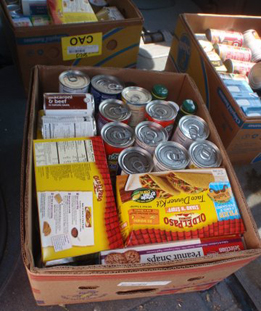 We look forward to serving you. If you haven't been here before and want to know more about the services we have available, call us at 616‑0363 or come in and talk to us. The basic foodstuffs that we distribute typically include fresh fruits, vegetables and eggs in addition to canned vegetables and fruit, spaghetti sauce, tuna, pasta, cereal, milk, meat, bread, and margarine.
In order to help we need you to get a voucher either here at the Food Bank or from the Waterville General Assistance office. The Food Bank is open for voucher interviews from 8:30 to 10:30 AM Monday through Thursday. Before coming in, please call us during those times to learn what information you will need to bring to the voucher interview. Our telephone number is 616-0363.
The Waterville General Assistance is located in City Hall on the ground floor at 1 Common Street and their telephone number is 680-4227. We recommend you call ahead to learn what information you will need to bring in order to get a voucher for the Food Bank. Thanks.
We serve Waterville area residents. If you are not a resident of Waterville, you may be able to get food at one of these other food resource locations in Maine.
You can help us by bringing in grocery bags for your food. Thank you.
Other Food Resources in Waterville.
Learn about Hunger in Maine and the U.S.
We are an all-volunteer operation and welcome the offer of your time.
Neighbors helping neighbors Volunteers and donations are welcome! Help us help others.