What We Do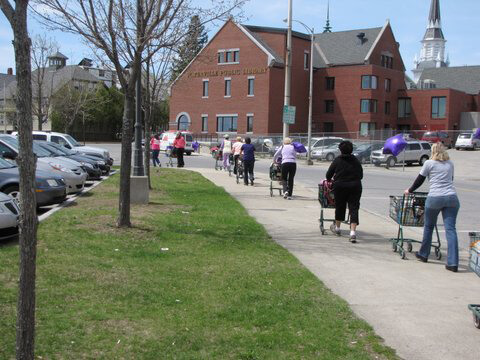 Our mission is to provide food assistance to our neighbors in need.
We provide basic food items to clients who meet income requirements or who are facing some type of emergency situation that is creating food insecurity. Prior to receiving food, clients must obtain a voucher from us or the Waterville General Assistance office.
The basic foodstuffs that we distribute typically include fresh fruits, vegetables and eggs in addition to canned vegetables and fruit, spaghetti sauce, tuna, pasta, cereal, milk, meat, bread, and margarine.
We are a 501(c)(3) nonprofit, so your cash donations are fully tax deductible.
Waterville Food Bank is one of more than 600 food assistance programs working in Maine as a Good Shepherd Food Bank Partner to help get food to Mainers at risk of going hungry.
Learn about Hunger in Maine and the U.S.
We are an all-volunteer operation and welcome the offer of your time.
Neighbors helping neighbors.
Volunteers and donations are welcome! Help us help others.