Waterville Food Bank is an all-volunteer organization. We are neighbors and friends working together to help each other provide food assistance to our neighbors in need.
The Waterville Food Bank was founded in 1981 by the Waterville Area Interfaith Council of Faith Communities. Our wheelchair-accessible facility is located at the Pleasant Street United Methodist Church on 61 Pleasant Street in Waterville Maine. While many of our volunteers are church members we are a separate agency that enjoys tremendous support from the church. Aside from a small donation towards the electric bill we occupy the facility cost free.
We are open Monday through Thursdays from 9 AM to 11 AM. We are also open every Monday evening from 5:30 to 7 PM We are closed on holidays and when Waterville Schools are closed due to inclement weather.
Vouchers are issued at the food bank from 8:30 AM to 10:30 AM Monday thru Thursday and from 5:30 PM to 6:30 PM on Monday evenings.
Waterville Food Bank is one of more than 600 food assistance programs working in Maine as a Good Shepherd Food Bank Partner to help get food to Mainers at risk of food insecurity.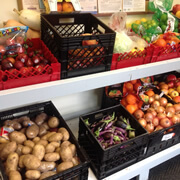 Getting Help
We are glad you have found us. We are here to help you if you are in need of food. Just bring identification for yourself and each member of your family and a piece of mail showing your Waterville address that you have received in the past 6 weeks.
Because we fulfill your requests for food on an individual basis our process does take a few extra minutes. We don't want to give you food that you don't need or don't want.
It would be helpful if you brought your own bags.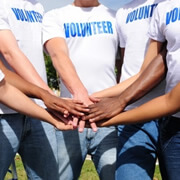 What We Do
We provide a place for people to donate food, and funds to purchase it, and also a place to volunteer time and talent. Those in need come to us to receive food when they find it helpful.  Our clients are encouraged to utilize our services if needed once every fourteen days. Clients receive vegetables, fruit, spaghetti sauce, canned tuna, pasta, cereal, eggs, coffee or tea, milk, meat, bread and margarine. We are frequently able to provide fresh fruits and vegetables. We are also able to distribute fresh fruits and vegetables to other feeding programs in Waterville when supplies allow.